Are you looking for an accurate and reliable plagiarism checker to help you protect your work from being copied or stolen? If so, then Duplichecker might be just the tool you need.
This comprehensive review of Duplichecker online plagiarism checker will look at its features, pricing options, and other tools that offer plagiarism detection services.
By the end of this blog post, you should have all the information necessary to decide if Duplichecker plagiarism detector is right for you!
Duplichecker Review

Summary
Duplichecker is a powerful tool for anyone who needs to quickly check their content for plagiarism, with AI-driven technology and multilingual support. It offers users both free and paid versions, with various plans tailored to different budgets, though the pricing structure can be confusing. Ultimately, Duplichecker provides an effective way to ensure accuracy and originality in your work.
Pros
Accurate and detailed results in percentage terms
Privacy is ensured through secure data storage and deletion after analysis AI-based technology for advanced scanning of content  
Cons
Not so reliable with sentences of short words
Bewildering array of paid plans makes it difficult to choose one  
What is Duplichecker
Duplichecker is an online plagiarism checker tool that helps writers, bloggers, and students worldwide ensure their content is original.
With advanced search algorithms to analyze text, Duplichecker scans your content for plagiarism before it is published or submitted. It's a great way to keep your work fresh and original – to give you peace of mind when sending off a final draft.
Aside from just detecting plagiarism, Duplichecker offers other useful features, such as a paraphraser tool in case you need to rewrite content.
How does Duplichecker Work?
Duplichecker is an incredibly useful tool if you need to check for plagiarism or duplicate content in a document quickly.
The software can analyze any writing, whether it's an academic paper, resume, newsletter, blog post, or essay. It uses advanced technology to detect copied strings of text online.
Duplichecker then neatly provides a highlighted report that flags any potential signs of duplicate content so you can make the necessary changes to your work.
What's more, Duplichecker plagiarism checker works fast – enabling you to efficiently turn around work at lightning speed and avoid getting caught out by the dreaded 'copycat syndrome.'
Suppose you've got any duplicate content that needs rewriting after being flagged by the plagiarism checker. In that case, the handy paraphrase tool can help you turn it into unique work without compromising the quality of the content.
The paraphrase tool just interchanges words with their synonyms, but it's excellent for giving you ideas that can freshen up your writing quickly and easily.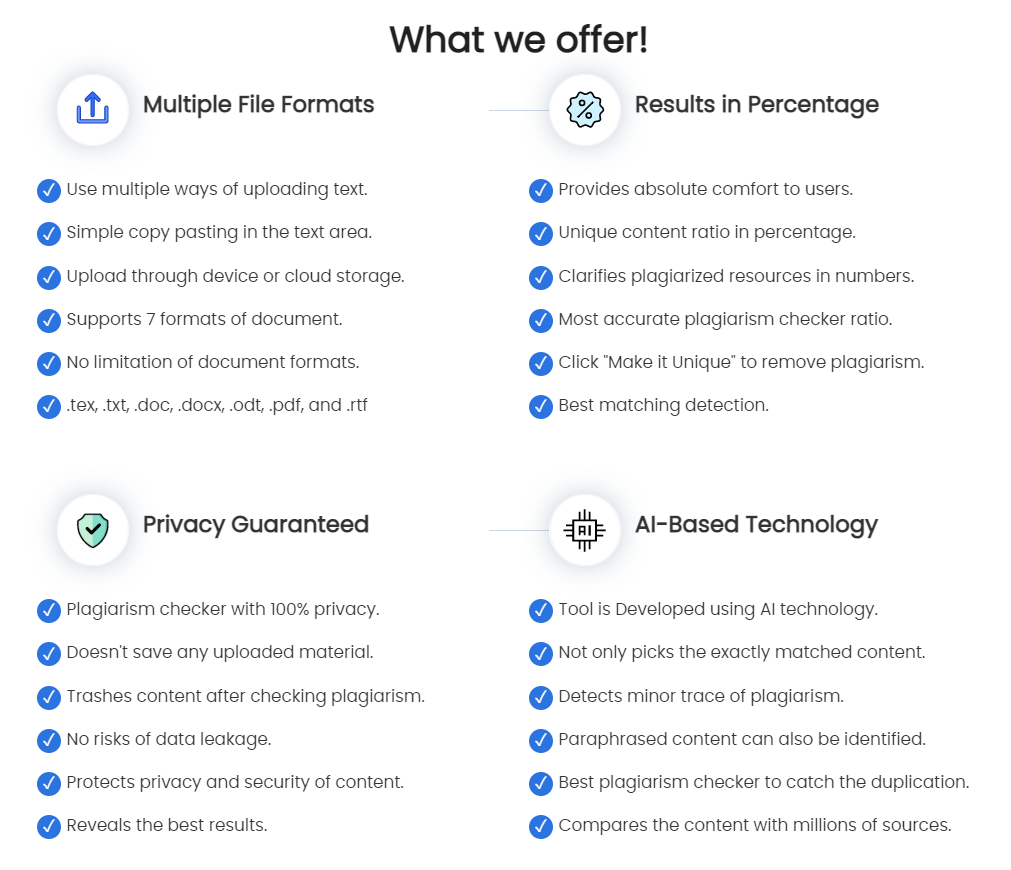 What are the Pros and Cons of Using Duplichecker?
Let's look at the tool from the perspective of students, businesses, and blog owners:
For Students
There are a lot of pros to using the free tool on the Duplichecker site to identify duplicate content as a student!
Not only is it incredibly easy to use – just upload your paper, or paste your written content directly into the text box, and the system does the rest – but it also keeps you honest.
With Duplichecker, any cut-and-paste sections that were copied from other sources are identified, helping students stay free of plagiarism. For students who might be more likely to use the free version, here is a list of pros and cons:
Completely free of cost and easy to access online
Can detect plagiarism when text is comprised of seven or more words
Highlights duplication clearly with colour coding scheme
Cannot accurately detect duplicate content when text is comprised of smaller words
The number of searches is limited on the free version
The search text box can only check plagiarism on a maximum of 1000 words at a time
Too many ads
All in all, Duplichecker is a great tool for keeping student work free of duplicate content, evidentially valid, and ensuring an A+ grade!
For Professionals and Business Owners
The Duplichecker plagiarism scanner can benefit professionals and business owners in various fields. It helps to ensure that any writing is free from duplicate content or copyright infringement that might see your articles being penalized by search engines.
With Duplichecker, you can quickly check whether the content is plagiarism free or has been copied from a third-party source. Here's a list of pros and cons for anyone thinking of buying the paid version.
Quick and accurate detection of plagiarized content
Easy-to-use interface with a variety of formats supported
Detailed results in percentage that provide an overview of the originality of the content
Privacy is ensured through secure data storage and deletion after analysis
AI-based technology for advanced scanning of content
Multilingual support for users all over the world
Writing enhancements help to highlight errors and improve writing skills
Fast and deep scanning with results in seconds
The paid plans can get pricey
Too many price plan variations make it difficult to choose one
Doesn't stop your work from being plagiarized by others!
How Much Does Duplichecker Cost?
You'll be pleased to know Duplichecker offers a free plagiarism checker with 1000 words limit per search.
After that, it gets super complicated!
There are 39 different paid plans! These run from Basic II-X, through Pro I-X, through Institute I-X, and onto Enterprise I-X – all with different numbers of searches, user seats, and word limits!
The cheapest plagiarism checker paid plan, Basic II starts at $10/month for 100 searches, 30k words, and one user login.
The most expensive plagiarism paid plan, Enterprise X, is priced at $200/month for 4,000 searches, 1.2m words, and up to 20 user seats.
What do Other Users Say?
TrustRadius gives Duplichecker plagiarism checker a score of 9.1/10 based on user reviews. Users appreciated the accuracy, the straightforward interface, and the wide range of features.

Duplichecker Alternatives
If you're not sold on the Duplichecker tool, let's look at some other services to detect original content.
Originality.ai
Originality.ai is an invaluable duplicate content checker and AI Detector that helps publishers check the originality of their content, saving them both time and money. It helps identify plagiarized material and detect if AI tools have been used to create the content.
If Originality can tell an article has been created with AI, then so can internet search engines like Google. And since publishing content created by AI can adversely affect a website's search engine optimization efforts, if done poorly, it can be a useful analysis.
After all, as any SEO will tell you, Google rewards websites with high-quality and unique content, and Originality helps you maintain a high standard.
Try Origininality.AI right here.
Grammarly
Grammarly is a powerful online writing assistant platform that helps users communicate more effectively and efficiently. It checks for punctuation mistakes, typos, and other grammatical errors and detects duplicate content with its plagiarism checker.
It also provides helpful feedback to improve your writing in various ways.
Check out our full Grammarly review for more details, or jump in and try Grammarly for free here.
Summary
Duplichecker is a great plagiarism detector tool for students, small businesses, and anyone else looking for online services to quickly check their content, academic writing, or research papers for plagiarism.
Its multilingual support and AI-driven technology can detect even the most subtle of copied material.
It offers free and paid versions that are easy to use, quick to scan and provide detailed results in an easy-to-understand percentage score. And its various plans, although quite confusing, provide users with a range of options to suit their needs.
Ultimately, Duplichecker is an effective plagiarism checker tool for anyone who values accuracy and originality in their work.